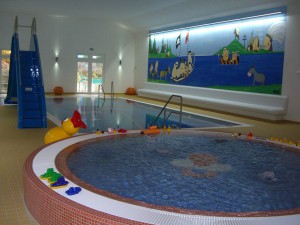 From its succesful range AlfaLine UV, bestUV delivered UV systems for treatment of several children pools.
Treatment of children pools is both important and difficult. Important, because of the sensitivity of young children for chloramines (bounded chlorine) and difficult, because young children create high amounts of chloramines in swimming pools.
Based on many years of practical experiences and comparisons of many results, bestUV developed its own 'Code of Design' (CoD). The CoD combines several pool parameters and the use of bestUV's own UV lamps. 
Besides low amounts of chloramines in water and air, the bestUV systems also provide lowest operational costs for the pool. 
For more information contact the experts in ultraviolet light.