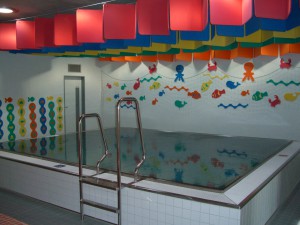 Several bestUV systems were installed in one of the largest aquaparcs in Europe. The newly constructed aquaparc was officially opened in 2010 and consists of a.o. 25m pool, several bubble and wild water baths, children's pools and water slides. 
All pools are equipped with bestUV systems including specially developed bestUV lamps, UV sensors and cleaning devices to prevent fouling of quartz sleeves. 
The specially developed bestUV lamps* create a double effect, as they emit wavelengths for disinfection of water and for reduction of combined chlorine in the water.
The disinfection by UV light is important as it:
reduces dosing of free chlorine 
reduces formation of disinfection byproducts 
kills chlorine resistent microorganisms 
The breakdown of bounded chlorine is important as it:
reduces bounded chlorine in the poolwater 
reduces the supply of fresh water by
improves the environment in the pool 
The overall results, after over 1 year operation of using the bestUV systems are healthy and pleasant pool water and pool air. More visitors (especially children) enjoy the pools and come back. A quick return on investment.
*The bestUV lamps are following the new draft (May 2011) of the German DIN 19643-2:2011-05 chapter 4.5.5. The DIN allows the use of specific medium-pressure UV lamps only. Above described aquaparc is thus equipped according to the newest German DIN.